Conference: "Improving the Undergraduate STEM Experience"
March 13 – 14, 2014
Held at the National Academy of Sciences building, 2101 Constitution Ave., N.W. Washington, D.C.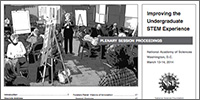 Plenary Session Proceedings:
Download
this 82-page document.
Keynote address:
Shirley Malcom, Head of Education and Human Resources Programs, AAAS
See Conference Archive for all videos and documents. Suggested Resources and Posters are also available.
Daniel Goroff, Program Director, Alfred P. Sloan Foundation;
Jay Labov, Senior Advisor for Education and Communication, National Research Council;
Jeanne Narum, Principal, Learning Spaces Collaboratory (LSC); Director of the Independent Colleges Office (ICO);
Nancy Shapiro, Associate Vice Chancellor for Academic Affairs, University System of Maryland;
MJ Bishop, Director, Center for Innovation and Excellence in Learning and Teaching, University System of Maryland
The conference was designed to capture and distill best practices and lessons learned from institutions that have demonstrated capacity to create and sustain innovative programs, and offer participants time to learn about those best practices, network with others, and explore future funding opportunities. Collectively, National Science Foundation I3 projects have developed programs that have influenced the student STEM experience, broadened participation, and addressed critical junctures. This conference provided an opportunity to share innovations that have had an impact and have been sustained. In addition to I3 projects, the conference also provided an opportunity to hear from other exemplary programs across the country.
Presentation videos and documentation from breakout sessions can be accessed in the Conference Archive. Suggested Resources and Posters from the conference are also available.
The conference was organized by TERC, a non-profit institute in Cambridge, MA, as part of a grant from NSF to build an online network for the I3 projects and to disseminate lessons learned. The conference yielded proceedings documents, videos, posters, and resources capturing highlights of this conference, now available on this website.